On January 12, 2017, the 2016 Star of Friendship Award Ceremony was held in Tian Yi Club. More than 100 people including Honorary President Wang Shuzu, President Wang Yuying, Zhao Yumin, Hu Shengcai, Ma Hailin, Wang Xiong, Liu Fengsong, Dong Libin, Li Shegnli and others were present at the meeting.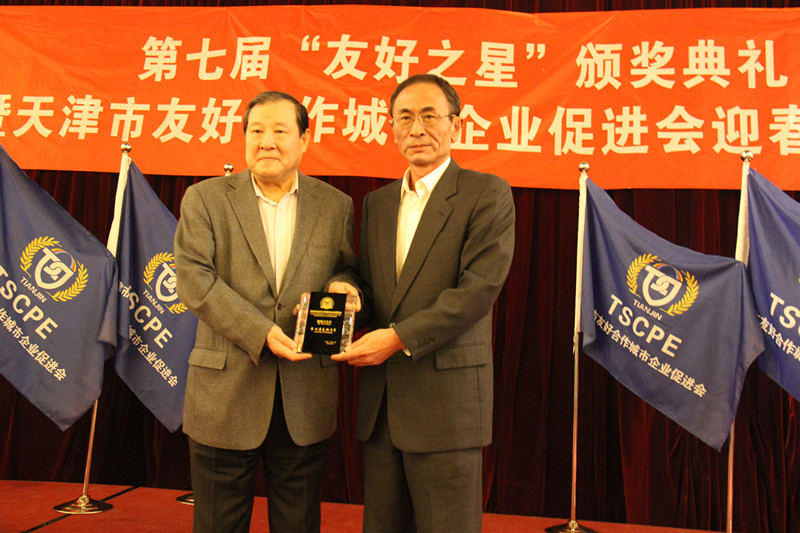 President Wang Yuying made a speech first. He summarized the work of 2016 of TSCPE. He expressed that in the year of 2017, TSCPE will carry forward team spirit, strengthen self-construction, actively help member enterprises go out, make every effort to develop TSCPE into the first-class association in domestic and even world and contribute to the friendship between Tianjin and its sister cities and the development of Tianjin.
Honorary President Wang Shuzu presented the medal of 2016 Star of Friendship to Wei Chaoyi who is the chief representative of Melbourne Office Tianjin. Wei Chaoyi has played an important role in promoting the exchange and cooperation between Tianjin and Melbourne and in the opening up of Tianjin.
Vice President Ge Pingjian presented the member certificate to Teng Xin Yue Shun (Tianjin) Asset Management Co., Ltd. Mr. Zhao Yumin and Mr. Ma Hailin presented the certificate of appreciation to Mr. Hu Qiajing and Mr. Hu Xiaopian.